A Trick of the Light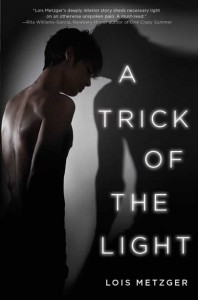 Available in paperback, hardcover, ebook, audiobook
2014 Best Fiction for Young Adults—Young Adult Services, American Library Association
Bank Street College Best Children's Books of the Year 2014
Books for National Eating Disorder Awareness Week 2014, The Horn Book
MSW's "100 Great Books for the Social Worker's Library"
YALSA pick: "Books Outside The Box: Realistic Fiction with a Bite"
YA Highway pick: "Mental Health in YA"
.
Read an Excerpt | Download Epic Reads Book Club Discussion Questions
Mike Welles had everything under control. He was a good student, an outfielder on the baseball team, a good son, a loyal friend. But that was before. Now things are rough at home, and they're getting confusing at school. He's losing his sense of direction, and he feels like a mess. Then there's a voice in his head. A friend, trying to help him regain control. More than that: The voice can guide him to be better and stronger than he was before, to rid his life of everything holding him back. To figure out who he is again. If only Mike will listen. Writing with devastating power and precision, acclaimed author Lois Metzger gives us the story of one young man's battle with his own shadows—a spare, stark, and vital tale of the way in which the things we build to protect ourselves can threaten to destroy us.
From the author:
This book has had a long gestation period! In 2004, I read an article in the New York Daily News, called "Not for Girls Only."  t was about a boy with an eating disorder. I never knew boys could get eating disorders, and this idea took hold of me and wouldn't let go. I got in touch with the reporter, who put me in touch with the boy in the article. He lives in California and I spoke with him and his family. From them, I got the name of a doctor at Stanford, who put me in touch with families in NYC. I met several young men and their parents. I did research on the complex world of eating disorders, reading novels and nonfiction, and visiting hospitals. A Trick of the Light evolved. I rewrote it many times. Over the years the book has had various different narrators. First, Mike (the main character) told his own story. Then his new friend, Amber. Then his best friend. Then his mom. Then an omniscient narrator. Finally, the voice in Mike's head, the entity prodding him into more and more destructive behavior, which had become more and more prominent with every draft, became the narrator. Once the voice took over the book, so to speak, the story fell into place as an intense psychological drama.
Book Trailer

Reviews

Starred Review, Publisher's Weekly: "A painful and necessary account of how eating disorders affect boys, too. Metzger's choice to cast the disease in the role of narrator forces readers inside Mike's head, an extremely uncomfortable yet illuminating way to examine this lethal disease."
"A Trick of the Light should be required reading in our schools. Rendered with sensitivity and intelligence, Metzger's beautifully drawn novel illuminates the sneaky-insidious nature of eating disorders with clarity, heart-rending honesty, and hope." —Robert Crais, New York Times #1 bestselling author of Suspect
"A unique look at mental illness, from the perspective of the insidious voice inside teenage Mike Welles' head… [a] powerful method of illustrating the warped thinking that characterizes an eating disorder… This unusual and moving novel addresses complicated ideas, and is ultimately a hopeful tale about coming back to life." —Katie Haegele, The Philadelphia Inquirer
"A Trick of the Light is a masterpiece of narrative voice, riveting from beginning to end. I can honestly say I've never read anything like it. Stunningly original and profoundly insightful, this book has touched me as a reader and inspired me as a writer." —James Howe, author of Addie on the Inside and The Misfits
"The breakout novel A Trick of the Light is something both compelling and breathless, yet elegantly written… Lois Metzger may have written a lifesaving book. It never becomes preachy, nor does it provide easy answers, but it looks at the ways teenagers suffer and points a way toward hope." —Liz Rosenberg, The Barnes & Noble Review/barnesandnoblereview.com
"A chilling, straightforward novel written with depth and understanding. A Trick of the Light shows readers that they must always be vigilant about the voice they listen to—even when it is their own."—Nina Sachs, School Library Journal
"The narrator of this startlingly original book is a voice inside fifteen-year-old Mike Welles's head. At first, the voice seems to be on Mike's side, urging him to be better, stronger—'infinitely strong.'  But then it tells Mike to lie (to doctors, parents, teachers), turns him against his friends and toward self-destructive behaviors, and pushes him to work out beyond the limits of his endurance—and to starve himself. Metzger's compelling psychological drama takes on the subject of a boy with an eating disorder. The narrative voice—Mike's eating disorder, personified—is the star of this masterfully written novel, which becomes a horror story of sorts, complete with a two-headed Cyclops (an art project) and a chorus of voices that sound like something out of Harry Potter (but that help to dilute the one, destructive voice). Eventually—after a hospital stint, group and family therapy, and sustained support from his friends—Mike begins first to question the voice, then to acknowledge that it 'gets [him] to do things he shouldn't. It acts like it's [his] best friend but really it wants to kill him,' and finally to find the strength to begin to take a stance against it. 'It won't be easy, Mike thinks, but it's a step in the right direction.'" —Dean Schneider, The Horn Book
"The first time 15-year-old Mike hears the voice in his head, he's stunned. 'Am I crazy?' he thinks. Things are weird at home; his parents are separating, and Mike is on his own—except for the mysterious voice—until he encounters Amber. Their meeting seems fortuitous, since Mike has vowed to get in shape, and Amber seems to know everything about nutrition. What he doesn't know is that Amber is anorexic, and her advice is dangerous. Meanwhile, the voice is becoming increasingly powerful and insidious, promising Mike that he can be fit and infinitely strong if he will just exercise obsessively and avoid food. Eventually, Mike winds up in the hospital as one of the million males in America who have eating disorders. Metzger's cautionary tale is made more powerful and dramatic by her choice of narrator: the voice in Mike's head. Readers will be easily caught by the quandary: Will the voice prevail, or will Mike recover control of his mind—and his body—before it's too late?"—Michael Cart, Booklist
"Lois Metzger's deeply interior story sheds necessary light on an otherwise unspoken pain. A must-read." —Rita Williams-Garcia, Newbery Honor author of One Crazy Summer
"Mike's world is beginning to spin out of control. But the voice in his head can tell him exactly how to 'master the chaos' in this horror story wrapped in reality. A Trick of the Light deserves to stand on the same shelf as Laurie Halse Anderson's Wintergirls." —Richard Peck, Newbery Medal winner for A Year Down Yonder
★★★★★   "A brilliant and powerful piece of writing." —Richie Partington, MLIS, "Richie's Picks"
"Many YA books tackle the topic of teens with eating disorders and body image issues… But none combine these elements in quite the same way as Lois Metzger's A Trick of the Light. Who is this oddly persuasive voice that's telling Mike to ignore his best friend and hang out with a strange, too-thin girl instead?… Speaking in a simple, hypnotic style, this unnamed voice distorts logic and warps perceptions, offering Mike the illusion of strength and discipline while pulling him further and further into the depths of anorexia. Will Mike eventually succumb to the voice's unattainable goals? Or will he somehow find a way to to silence the very speaker who's been telling—and controlling—the story all along?…the voice in A Trick of the Light is manipulative and deceitful, drawing readers into Mike's head and forcing them to decide for themselves what's true and what's twisted. Don't be misled by the book's small size: This slim volume packs a big emotional punch." —Jill Ratzan, BookPage
"Mike Welles's life is spiraling out of control. His parents are getting a divorce and he is having trouble at school. He has gained weight and is beginning to feel distanced from his best friend. What is even worse is that he now has a voice is his head telling him what to do. The voice says it is Mike's friend and wants to help him regain control: by changing his diet, working out, and ridding himself of people he cannot trust. As the voice gains more and more influence in Mike's life, readers begin to wonder if it is truly a friend or not. A Trick of the Light is full of unexpected elements that will keep readers interested. Throughout the narrative of a teenage boy undergoing a personal crisis, Metzger describes and develops several types of relationships: between friends, between children and parents, among students and teachers, and finally, between Mike and himself. It provides a thought-provoking look at how teens approach difficult problems and solve them. At the same time, the book provides a twist on Mike's situation by narrating it from the perspective of the voice in his head. This book should appeal broadly to a high school population. Both boys and girls will enjoy the story of a boy dealing with a pain that is all-too-common among teenagers and it is suitable for all ages." — Johanna Nation-Vallee, VOYA
"Stunning, heart-wrenching, and painful, yet uplifting and hopeful, A Trick of the Light is an important book for teens. Told from the male point of view, A Trick of the Light addresses negative body image and weight issues for boys." —Pamela Thompson, Library Media Specialist, El Paso, Texas
"The spooky, seductive narrator of Lois Metzger's new book will get inside your head and play tricks on you, just as he does to Mike, the main character. At its heart, though, A Trick of the Light is a compassionate and inventive exploration of a little-understood behavior that plagues a surprising number of young men." —Patricia McCormick, National Book Award finalist, author of Never Fall Down
"A Trick of the Light is a marvel. It's hard to imagine a more convincing and insightful depiction of a teenager dealing with a serious personal issue, and yet the story does so in a mysterious and unexpected way. Metzger does a superb job of engaging the reader without revealing any more than is necessary, and the result is a series of surprises that will keep even the most jaded reader going all the way to a realistic and satisfying conclusion." —Todd Strasser, author of If I Grow Up
"When Mike is fifteen, something changes in his life; driven by an inner voice, he begins to focus on self-discipline, on purifying himself… Mike's warped focus on self-perfection leads him deeper into dangerous and self-punishing anorexia. The use of Mike's commanding inner voice as narrator… provides a chilling and distanced narration that effectively conveys the seductive strength of such an impulse… the book manages a rare feat, making Mike's dilemma easy to relate to without making it attractive, and readers will sympathize with Mike and find a new understanding of his problem." —Deborah Stevenson, Bulletin of the Center for Children's Books
"Thank you for writing this important book and contributing richly to the field of eating disorder prevention and awareness." —Jacquelyn Ekern, MS, LPC, President of Eating Disorder Hope
"A Trick of the Light sheds the spotlight on a little-discussed but surprisingly common condition—anorexia in teen boys… Narrated by the voice inside young Mike's head, the novel inventively presents the private thoughts of a boy whose increasingly distorted image of himself wreaks havoc on his life—and health… A new and important look at an issue that deserves our attention, and compassion." —Beth Kephart, National Book Award finalist, author of Small Damages