Appearances and School Visits
In the Mae West room at Jefferson Market Library again, teaching creative writing to kids in May 2017.
On May 2, 2017 I Skyped with the entire fifth grade at the Pine Crest School in Florida for the fifth year in a row. "Wow!" Trudy Zimmerman, a teacher, told me. "Yet again, your presentation was wonderful." One kid wrote, "Who knows, maybe you've just created 96 writers!" Another kid said he was inspired "to learn from books, not just text books."
For the NYC Teen Author Festival 2017, I was at the New York Public Library, 5th Ave and 42 St, on a panel about "Writing New York City," where I spoke about Belle Heights alongside Laurie Halse Anderson, Coe Booth, Libba Bray, Michael Buckley, Jocelyn Davies, Justine Larbalestier, Sarah Mylnowski, Gae Polisner, Adam Silvera and Jennifer E. Smith. Also went to the New Heights Academy Charter School for The Big Read; afterward a librarian wrote: "It was so great to see the teens clamoring for the books afterwards and signing up for library cards. We didn't have a single book left!"
Glad to be back in the Jefferson Market Library's Mae West Room teaching creative writing to kids after school in January and February 2017.
I Skyped with Liz Rosenberg's class of graduate students at Binghamton University about my novel, A Trick of the Light, on November 1, 2016. Her students wanted to know, why did you narrate an entire novel from the point of view of a voice in someone's head? Answer: I had to go through many, many narrators before that "voice" basically told me to step aside and let it tell the story.
On Sunday, September 25, 2016, at the Baltimore Book Festival, under the Science Fiction and Fantasy Writers of America tent. A question to the panel from someone in the audience: "If your book was a food, what would it be?" Answers ranged from "coffee ice cream" to "gumbo" to "a slice of pizza, half anchovies, half onion."
At the first ever Queens Book Festival at Kaufman Astoria Studios on August 7, 2016, I moderated a panel on Mental Health Issues in YA Fiction. I was lucky to have two great writers on my panel, Corey Ann Haydu and Kate Axelrod. We talked about how important it is to write about mental-health issues with accuracy and compassion.
On July 23, 2016, there was a Teen Book Group at the Astoria Book Shop for Change Places with Me, where we had a great discussion about neighborhoods in Queens, both real and invented, and fairy tales, and wicked stepmothers (and not-so-wicked ones). I was asked about writing a book that basically starts in the middle; I said I had to keep careful notes on what was happening and when.
In the words of Donna Bray and Alessandra Balzer, I had a "fab book launch" at McNally Jackson Book Store on June 30, 2016. I spoke with one of the editors at Balzer+Bray, Viana Siniscalchi, about Change Places with Me, and read a brief excerpt about working in a veterinarian's office, and answered some great questions, such as "How do you know how fourteen-year-olds feel?" (Because I'm 14 on the inside.) It was an honor to be in the city's most beautiful book store with a crowd of family and friends.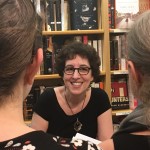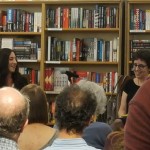 On June 10, 2016, I was at the Barnes & Noble in Yonkers, NY, for the start of the first-ever BN Teen Book Festival, on a panel with Melissa Grey. We got a great crowd, and Kelly Anne Schulze from B&N and librarian Zoraida Solo Cordova asked us questions about music and favorite books and how to get to know your characters (Melissa reads their Tarot cards; I write their diaries).
I was at Jefferson Market Library in NYC for Teen Author Reading Night, June 1, 2016. Proud to read next to Tara Altebrando, Jennifer Castle, Gordon Korman, Sarah Mlynowski, Lindsay Ribar, and Eliot Shrefer; hosted by David Levithan. There was a great crowd at the library. A woman asked me why I set my books in an invented neighborhood in Queens. I said because nowadays Queens is an exciting, vibrant place, but when I was growing up it was boring, and my imagination lives in the old "boring" Queens. Also, the dullness of Belle Heights stands in sharp contrast to the drama in the characters' lives.
For the fourth year in a row, I spoke with the fifth graders at the Pine Crest School in Boca Raton, Florida, on May 4, 2016. The staff wrote me: "WOW. Your presentation gave our students a perspective on writing that they will benefit from forever. We are all extremely lucky that you gave us the opportunity to experience meeting you and learning from you. Your expertise amazed us." I was amazed by the kids who, year after year, come up with terrific questions, such as: "If something happened to me in real life and I want to write about it in a story, can I change things around and make stuff up?" Answer: Yes. Later one of the students wrote me: "If I notice something I will really take it into consideration as an idea for a story. I am so excited to go and write a story now."
On March 18, 2016, as part of the NYC Teen Author Festival, I was on a panel at the New York Public Library: "Crafting Reality," moderated by David Levithan. My fellow writers on the panel were Ami Allen-Vath, Cordelia Jensen, Kody Keplinger, Sara Darer Littman, Rajdeep Paulus, Randy Riba and Jessica Verdi. I spoke about inventing Belle Heights, the setting for my novels, a Queens neighborhood where nothing ever happens—creating a stark contrast to the dramatic life of the characters.
Also as part of the NYC Teen Author Festival, I visited the Queens Public Library, in Astoria, not far from the fictional Belle Heights, on March 17, 2016. I read from my new book, Change Places with Me. I was on a panel with Robin Epstein, Kathryn Holmes, Daniel Jose and Lance Rubin. The audience was fantastic, a group of people in the library's Young Adult Literacy Program.
I Skyped with Liz Rosenberg's "Writing for Children" undergraduate class at Binghamton University on November 3, 2015. Many of the students were interested in a career in writing, and we talked about publishing with all its ups (great feedback from readers) and downs (rejection).
On May 4, 2015, I spoke to the fifth grade at the Pine Crest School in Florida, for the third year in a row. "What can I say?" Trudy Zimmerman, an English teacher, wrote me. "You inspired the students yet again!" Several students wrote a group letter that thanked me for sharing my "fascinating experiences," which included learning about "how many times a book could be rejected." Glad to be of help!
I participated in the Young Writers Roundtable at the Office of the Borough President in Staten Island, NY, on December 16, 2014. Ten panelists shared their professional experiences with 50 young adults interested in writing. There was a quote from Ray Bradbury on the wall: "Jump, and you will find out how to unfold your wings as you fall."
On November 19, 2014, I was a featured author at the annual Book Fair at the Chapin School, a private NYC girls' school. I signed lots of books and spoke with many girls about what it's like to be writer. It was freezing outside but the students insisted: "We don't get cold. We're Chapin girls!"
I spoke with the entire fifth grade (96 students) at the Pine Crest School, in Florida, on May 6, 2014—my second Skype session with the school. One of the students wrote me afterward: "I was clearly inspired by what you said. I thought that writing was just sit there until an idea hits you in the head but now I know that you actually have to be inspired by something, move around, and see the world!" Another wrote, "I learned that most books come from a memory or something that happened to you. Except you change it around." Their English teacher, Trudy Zimmerman, emailed me: "You were great today! The kids loved you and there was certainly a 'buzz' around 5th grade after your presentation. You enabled the kids to really understand what it takes to be a writer and answering their questions provided them with additional insight. I cannot thank you enough!!!" To Ms. Zimmerman I reply: Same time next year.
On February 28, 2014, I spoke by Skype to two of Ms. Chelsea Stanford's 5th-grade Language Arts/Social Studies classes at Colt Elementary in Marble Falls, Texas. The 10- and 11-year-olds had read "The Hidden Girl," and came up with penetrating questions; among them, "Would you risk your life and your family to save a child you didn't know?"
In January and February 2014, I ran a writing workshop for kids at the Jefferson Market Library in Greenwich Village, NYC. In six weeks, kids wrote their own (wonderful) stories, after learning about setting, character, dialogue, voice, and character transformation. I was especially pleased when one of the parents told me that her daughter was applying what she'd learned in the workshop to her school assignments.
On June 23, 2013, I was on the "Terrific Teen Reads for Summer" panel and book-signing at Books of Wonder, NYC. I was very proud to share the stage with Jacqueline Green, Leila Howland, Tonya Hurley, Lisa Jahn-Clough, Beth Kephart, and Allen Zadoff. Big turnout and lots of questions! Someone asked about the differences between YA fiction and fiction for adults. I quoted Robert Cormier, who said he writes for young adults because his books are too hard for adults.
In February 2013, I had my first Skype session with the 5th Grade Writers' symposium at the Pine Crest School in Boca Raton, Florida. Trudy Zimmerman, English teacher, later wrote: "We were honored to have Lois Metzger as an author. She related her personal background to the events that led up to the desire to be a writer, and explained the 'ups and downs' along the road to being published. The students asked many questions which she addressed eagerly, revealing her passion for writing." One of the kids wrote me afterward, "I had so much fun learning new things from you." Another wrote: "You taught me to see inspiration in the anything." And, from another: "You had an awesome presentation." Still another: "My favorite part was when you described that you discover stories through dialogue, sounds, or events that affect your life because this inspired me to uncover hidden stories in objects or people." And: "I especially liked how you said that you don't get an idea—an idea gets you."
In late 2010, the fifth grade at the United Nations School, a private school in New York City, read The Hidden Girl:  A True Story of the Holocaust, and came up with questions for me. Afterward, one of the students wrote: "I really think you have a smart, extensive and colorful mind. I really love the hidden girl after Ms. Rosen finished reading it I was so lost in thought that I arrived ten minutes late to my next class. I have decided to start one of your books soon. To be honest, your story (The Hidden Girl) was the best story I've ever heard, I am not kidding! Thank you for your tribute to the world." Hey, thanks to you, Julien! Another fifth-grader wrote: "You seem very nice." I appreciate that, too.
At the New York Society Library, Lola Rein Kaufman and I spoke about our book, The Hidden Girl: A True Story of the Holocaust. From the Library catalogue: 
"Born in southeast Poland in 1934, Lola Rein lost everything at the age of eight when her parents died in the Holocaust. Lola's grandmother arranged for her to be concealed by a Ukrainian family, and she spent nine months hiding in a barn, her only possession a beautiful dress her mother had embroidered for her.  After Poland's liberation, she would be adopted by an uncle and move to the United States, one of the few survivors of her town.  With author Lois Metzger, she tells her powerful story in the book, The Hidden Girl. In this Holocaust Remembrance Day event, Ms. Kaufman and Ms. Metzger will speak about the Holocaust experience and the process of transforming memory into writing." The Library later sent me this note: "Many thanks for coordinating and participating in last night's program. You and Lola presented a powerful program that was very meaningful in so many ways. It was the perfect length and tone and has left a lasting impression on all of us." Here's a video of my introductory remarks and Lola's presentation: The Hidden Girl: A True Story of the Holocaust
I spoke about my book, Yours, Anne: The Life of Anne Frank, at The New York Society Library, and received this note afterward: "Thank you for your lovely program at the library Tuesday night. Both the children and the adults were moved by the thought-provoking words and images you shared."
I spoke at The Hewitt School, a private girls' school in New York City, and also signed books at their Book Fair. The Division Head at the school wrote: "Thank you so much for coming to The Hewitt School to talk to the girls about your book, Missing Girls. Your visit contributed greatly to our Literary Week celebrations. Every student was impressed with your description of the way you weave autobiographical elements into your books and characters. You have contributed so much to our students' understanding of the writing process."
I participated in the National Book Foundation's Settlement House Author Residency program. At four different sites I worked with teenagers and adults; gave readings; and answered questions about writing. These appearances were advertised in Time Out magazine. The Senior Program Officer of the National Book Foundation later wrote me: "The knowledge and ideas you shared with teenagers and adults will have a long-lasting impression on everyone involved. In the end, many of the participants began to appreciate the power and the pleasure of the written word."
As part of Annenberg funding for education in New York City, I was an Artist-in-Residence at my old school, P.S. 165 in Flushing, Queens. All the kids wanted to know if I knew "the Nanny." That's Fran Drescher, and she went to P.S. 165 too. But I didn't know her. Every week for six weeks, I taught fifth- and sixth-grade English classes. I created a curriculum for the event: "Six Weeks to a Story!" Week One: Setting. Students were asked to describe a familiar place (without naming it), using at least three senses. The rest of the class then guessed the place. The students also described an imaginary place. Week Two: Character. Students invented a character, created a list of 20 questions for that character, and answered those questions. Week Three: Dialogue. Working with a partner, students had their characters talk to each other. The characters had to reveal something—a secret, or a trip one is planning to take, for example. Week Four: Voice. The students described a personal experience told in the third person. Week Five: What If? Students came up with two "what if" scenarios—a fantasy and a reality. Combining all the elements of the five weeks, students wrote stories as homework. Week Six: Students read their stories aloud. Afterward, one of the teachers wrote: "I just want to thank you for opening up the eyes of my students to the world of writing."