Can You Keep a Secret?: Ten Stories About Secrets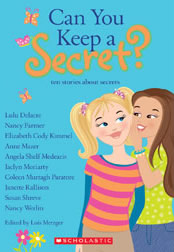 Edited by Lois Metzger
Featuring Original Short Stories by:
Lulu Delacre
Nancy Farmer
Elizabeth Cody Kimmel
Anne Mazer
Angela Shelf Medearis
Jaclyn Moriarty
Coleen Murtagh Paratore
Janette Rallison
Susan Shreve
Nancy Werlin
My foreword to the collection:
What is a secret?
Knowing something that others don't know.
Keeping something hidden and making sure that others never find out.
Protecting a friend, a family member, someone you barely know.
Why is sometimes so hard to keep a secret?
Because it can be thrilling, even powerful, to have a secret.
And it's a kind of test.
Are you worthy of the secret? Will you be loyal, and keep it always? Will you hurt or disappoint someone if you blurt it out? Or will it be worse if you don't tell?
These ten exciting stories, written especially for this book, present ten wholly different ways to think about secrets. For example, Elizabeth Cody Kimmel's story follows a girl who mistakenly asks the wrong boy to a dance—and keeping this information to herself has consequences she never dreamed of. In Nancy Farmer's story, a girl learns the secret to a curse that has haunted her all her life. In Lulu Delacre's story, a girl learns that keeping a secret is what will help her become the woman she is meant to be. And in Nancy Werlin's story, a girl must give up her secret so she can find her true self.
Some of the stories are realistic; others are fantasy. Some are full of hilarious misunderstandings and misadventures. In others, secrets are serious business.
All of them may start you thinking about your own secrets, secrets entrusted to you, secrets you've entrusted to others, secrets you've found out accidentally, secrets you were always meant to know… and secrets you have yet to discover.