Be Careful What You Wish For: Ten Stories About Wishes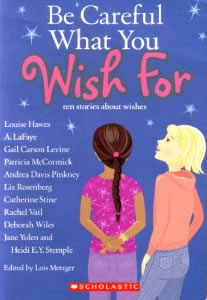 Edited by Lois Metzger
Featuring Original Short Stories By:
Louise Hawes
A. LaFaye
Gail Carson Levine
Patricia McCormick
Andrea Davis Pinkney
Liz Rosenberg
Catherine Stine
Rachel Vail
Deborah Wiles
Jane Yolen and Heidi E.Y. Stemple
My foreword to the collection:
Star light, star bright
First star I see tonight,
I wish I may, I wish I might,
Have the wish I wish tonight.
What if you knew—beyond a doubt—that your wish would come true? What would you wish for?
We're all heard the old stories about how wishes can backfire. A sausage can end up stuck on the end of a nose. A poor couple in a run-down hut can live in a palace for a time and end up back in the hut.
If only there were rules for this kind of thing! Rules that might include the following:
Before you make a wish—
Take your time.
There's a school in Gail Carson Levine's story where, during one week in sixth grade, every student is granted a single wish. One girl spends years thinking about the perfect wish. But when her turn comes, she's at a loss. What wish would be perfect enough for "Wish Week"?
Choose your wording wisely.
In Jane Yolen and Heidi E.Y. Stemple's story, a girl is painstakingly deliberate about how she asks for her wish. Then why does everything turn out exactly the way she doesn't want it to?
Be flexible!
The girl in Louise Hawes's story has been living in the shadow of her big sister. When the girl is given the power to make a wish, she can make that shadow go away. But things get tangled, and she finds herself wishing for the last thing she could have imagined.
In these ten extraordinary, original stories, you will also read about teenage genies who get stuck in a bottle; about a girl who, more than anything, wants a true friend; about a girl in a city apartment (where no animals are allowed) who desperately wants… a pet pig.
Maybe what they say is true—that you should be careful what you wish for. But it's even more true that when you catch sight of that bright star shining—keep wishing!