Lois Metzger
Read also:
I set out to write books that are fast and fun to read, even if what I'm writing about isn't fun at all—a book about grief that isn't grief-stricken, a book about loss that doesn't feel empty, a book about sadness that isn't a downer. My books are also always about people finding their way through these things.
I was born in Queens, New York, and three of my five young-adult novels take place in Belle Heights, an invented Queens neighborhood that's boring on purpose to stand in stark contrast to the dramatic life of my characters. I've also written two nonfiction books about the Holocaust, and edited five anthologies of short stories. I live near Washington Square Park in New York with my husband and son, and where the view out the back window is right out of Alfred Hitchcock's Rear Window.
I ride Citbike all over the city. Here I am on an "Annie" bike.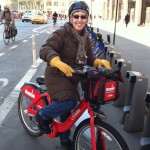 Over the years I've worked a bunch of jobs, including Kelly Girl (temporary typist), waitress, park groundskeeper, high-school English teacher at a private school in New York City, typist at The New Yorker magazine, and a front-desk clerk at a hotel in Atlantic City, an experience I wrote about in a short story, "Seashell Motel." Anything real can become fiction—and sometimes the opposite can be true too.
I had a best friend growing up (we're still close) and she always got me in trouble in school, making me laugh and I couldn't stop. We got in trouble other places, too. We went to clothing stories and tried to out-do each other by choosing the most horrible outfits. The salesladies always ended up asking us to leave. On the subway, we talked loudly in one car, got off at the next stop, ran to the next car, did the same thing, then, at the following stop, went back to the first car and talked loudly again. I'm sure we were the only ones who found this hilarious. I write a lot about the importance of having a best friend, who can be like an anchor, something to steady you and help you keep your balance.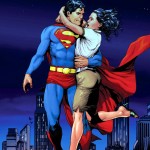 My brother, Steve, is six years older than me. He read comics so I read comics too. "Lois" is kind of an unusual name and I couldn't believe that Lois Lane was Superman's girlfriend—and she was a writer. I'm sure this influenced me to become a writer. Steve is now a writer of excellent books for children—check out his web site.
Between college and graduate school, I took a year off and lived out west. For part of the time I stayed at the home of two famous science-fiction writers, Kate Wilhelm and Damon Knight. I had met them at Clarion, a science-fiction writing workshop. Kate chose one of my stories for a collection she edited. That was my first sale. I was 19. Naturally I assumed that publishing was going to be easy from then on. So many rejections followed, it would make your head spin.
Family History
My mother, uncle and grandparents were born in Vienna and had to flee when Hitler came to power. At age 16 my mother was sent to Scotland on the Kindertransport, where she was adopted by a Scottish beekeeper. She had red hair so she fit in well in Scotland. She knew no English and learned by reading "Dick and Jane" books. The beekeeper was a wonderful man and his daughter, Josephine, who was only a baby when my mother went to live with her family, is now a friend. I think of myself as having relatives in Scotland though we are not blood-related.
My uncle and grandparents couldn't leave Vienna in time and had to run from the Nazis for six years. They ended up in many concentration camps. My uncle told me that sometimes barbed wire was wrapped around a school and you were held there.
After the war my mother went to Nuremberg during the trials as a translator. She met my Brooklyn-born father there. They had one date that didn't go well. He asked her to the opera, because he heard she liked the opera, and he fell asleep during it. She was not impressed, and didn't plan on ever seeing him again.
Her name was "Ilse," like Ingrid Bergman in Casablanca except in the movie it's spelled "Ilsa." She finally met up with her parents and brother in a displaced-person's camp in Italy, where they waited several years to come to America. My uncle and grandparents managed to find a sponsor, and my mother came as a war bride, engaged to two men in case one man changed his mind.
One night in Brooklyn, three years after that one date at the opera, my father's car broke down and he had to take the bus. When he got on the bus, he started yelling, "I don't believe it!  I don't believe it!" My grandmother and mother were on the bus. My grandmother whispered to my mother, "Don't talk to him. He's a crazy American." My father hustled them off the bus and took them to meet his mother, where he announced, "This is the girl I'm going to marry." They got married three days later. My parents weren't particularly well-suited to each other but they stayed married for more than 30 years, until my mother died.